Visions: How Science Will Revolutionize the 21st Century - Paperback
Visions: How Science Will Revolutionize the 21st Century - Paperback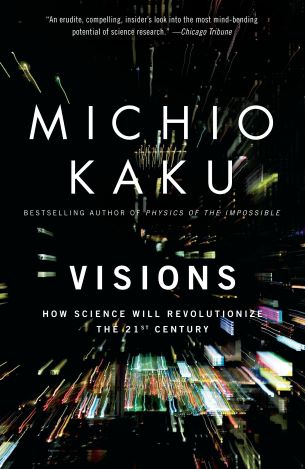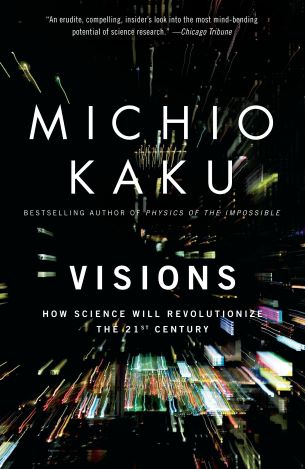 Visions: How Science Will Revolutionize the 21st Century - Paperback
Tình trạng: Còn hàng
Paperback: 416 pages
Publisher: Anchor (September 15, 1998)
Language: English
ISBN-10: 0385484992
ISBN-13: 978-0385484992
Product Dimensions: 5.2 x 0.9 x 8 inches
Shipping Weight: 12.8 ounces
Visions: How Science Will Revolutionize the 21st Century Paperback
In Visions, physicist and author Michio Kaku examines the great scientific revolutions that have dramatically reshaped the twentieth century--the quantum mechanics, biogenetics, and artificial intelligence--and shows how they will change and alter science and the way we live.

The next century will witness more far-reaching scientific revolutions, as we make the transition from unraveling the secrets of nature to becoming masters of nature. We will no longer be passive bystanders to the dance of the universe, but will become creative choreographers of matter, life, and intelligence.

The first section of Visions presents a shocking look at a cyber-world infiltrated by millions of tiny intelligence systems. Part two illustrates how the decoding of DNA's genetic structure will allow humans the "godlike ability to manipulate life almost at will." Finally, VISIONS focuses on the future of quantum physics, in which physicists will perfect new ways to manipulate matter and harness the cosmic energy of the universe.

What makes Michio Kaku's vision of the science of the future so compelling--and so different from the mere forecasts of most thinkers--is that it is based on the groundbreaking research taking place in labs today, as well as the consensus of over 150 of Kaku's scientific colleagues. Science, for all its breathtaking change, evolves slowly; we can accurately predict, asserts Kaku, what the direction of science will be, based on the paths that are being forged today.

A thrilling, unique narrative that brings together the thinking of many of the world's most accomplished scientists to explore the world of the future, Visions is science writing at its best.
Amazon.com Review
Take it easy: that's Michio Kaku's motto. Given the extraordinary advances science has thrown up in time for the millennium, the only way you could possibly fit them into a single volume is by a correspondingly massive simplification.
Subtitled How Science Will Revolutionize the 21st Century and Beyond, Visions assumes that, by and large, scientists get to do whatever they like, that all technologies are consumer technologies, and that consumers welcome anything and everything science throws at them. Kaku gets away with this frankly dodgy strategy by dint of sheer hard work. He has based his predictions on interviews with more than 150 renowned working scientists; he integrates these interviews with a huge body of original journalistic material; and, above all, he roots that mass of information on an entirely reasonable model of what the purpose of science will be in the third millennium. Up until now, science has expended its efforts on decoding most of the fundamental natural processes--"the dance," as Kaku puts it, of elementary particles deep inside stars and the rhythms of DNA molecules coiling and uncoiling within our bodies. Science's task now, Kaku believes, is to cross-pollinate advances thrown up by the study of matter, biology, and mind--modern science's three main theaters of endeavor. "We are now making the transition from amateur chess players to grand masters," he writes, "from observers to choreographers of nature." Then again, he also believes that "the Internet ... will eventually become a 'Magic Mirror' that appears in fairy tales, able to speak with the wisdom of the human race." Kaku, in short, deserves a good slapping--but he also deserves to be read. --Simon Ings, Amazon.co.uk
Review
Critical acclaim for Michio Kaku's previous book, Hyperspace:

"Among the best of its genre to appear in recent years...What a wonderful adventure it is, trying to think the unthinkable!"
--The New York Times Book Review

"A roller coaster of an intellectual ride through the extraordinary world of black holes, wormholes, parallel universes, higher dimensions and time travel."
--Philadelphia Inquirer

"Mesmerizing...the reader exits dizzy, elated and looking at the world in a
literally revolutionary way."
--Washington Post
Bước 1: Truy cập website và lựa chọn sản phẩm cần mua để mua hàng
Bước 2: Click và sản phẩm muốn mua, màn hình hiển thị ra pop up với các lựa chọn sau
Nếu bạn muốn tiếp tục mua hàng: Bấm vào phần tiếp tục mua hàng để lựa chọn thêm sản phẩm vào giỏ hàng
Nếu bạn muốn xem giỏ hàng để cập nhật sản phẩm: Bấm vào xem giỏ hàng
Nếu bạn muốn đặt hàng và thanh toán cho sản phẩm này vui lòng bấm vào: Đặt hàng và thanh toán
Bước 3: Lựa chọn thông tin tài khoản thanh toán
Nếu bạn đã có tài khoản vui lòng nhập thông tin tên đăng nhập là email và mật khẩu vào mục đã có tài khoản trên hệ thống
Nếu bạn chưa có tài khoản và muốn đăng ký tài khoản vui lòng điền các thông tin cá nhân để tiếp tục đăng ký tài khoản. Khi có tài khoản bạn sẽ dễ dàng theo dõi được đơn hàng của mình
Nếu bạn muốn mua hàng mà không cần tài khoản vui lòng nhấp chuột vào mục đặt hàng không cần tài khoản
Bước 4: Điền các thông tin của bạn để nhận đơn hàng, lựa chọn hình thức thanh toán và vận chuyển cho đơn hàng của mình
Bước 5: Xem lại thông tin đặt hàng, điền chú thích và gửi đơn hàng
Sau khi nhận được đơn hàng bạn gửi chúng tôi sẽ liên hệ bằng cách gọi điện lại để xác nhận lại đơn hàng và địa chỉ của bạn.
Trân trọng cảm ơn.